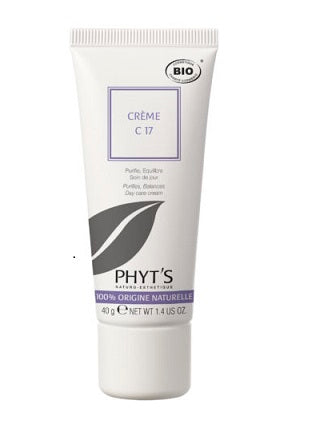 Phyt's C17 Balancing Day Care, Acne, Oily skincare
Balancing Day Care for Acne, Oily Skin
A light fluid day cream, helps to clear up acne and imperfections, giving a smooth and clear skin.
Main Ingredients:
Thyme Oil - Purifying, regenerating, anti-oxidant, inflammatory
Lemon Peel Oil - Heals acne, removes blackheads, antibacterial
Clove Flower Oil - Purifying, heals blemishes, anti-oxidant.
Directions: In the morning cleanse skin with Mousse Cleanser and Eucaluptus toner.  Next Apply several drops of the Naturoderm on blemishes and then apply the Cream C17 on to face and neck.
Size 40 g, 1.4 ounce