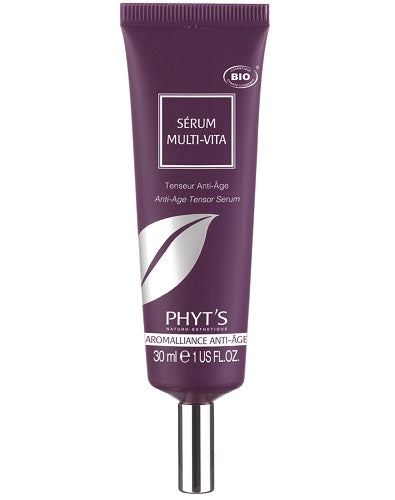 Phyt's Anti-Age Tensor Serum, Firming and Lifting, Multi-Vitamin Serum
Phyt's anti-age tensor, Firming, Lifting Multi-vitamin serum. Organic Skincare
An anti-aging serum with Vitamins and Minerals ,to firm and improve the tone of the skin. Helps to diminish fine lines and wrinkles.
Ideal for aging skin, mature skin.
Main Ingredients:
Lavender Oil
Lavender Water
Sunflower Oil
Carrot Root Extract
Palmarosa Oil
Fruit Extract
Directions: After cleansing, apply small amount of the serum to the face and neck, massage in lightly.  Next apply the Phyt's anti-aging cream.
Size 30 ml, 1 ounce