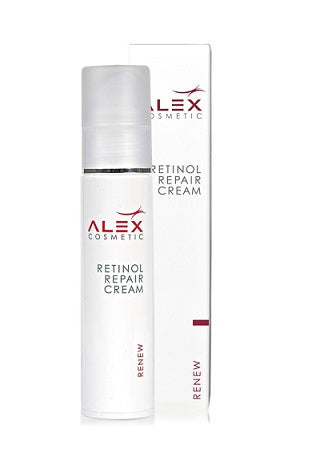 Alex Cosmetic Retinol Repair Cream
A rich anti-aging Cream with liposome encapsulated Retinol.  Offers powerful wrinkle reduction and prevention, and refines pores.  
Nourishing base promotes cellular recovery and protection while leaving a silky smooth finish
Main Ingredients:
Evening Primrose Oil

Jojoba Oil

Shea Butter

Encapsulated retinol

HYALURONIC ACID (high and low molecular) & CERAMIDE 3 help skin capture and retain moisture, so that it can remain soft and supple
Directions:  After cleansing, apply a small amount of the cream to the face and neck area, massage in lightly, use day and night. 
Size 50 ml, 1.7 ounce