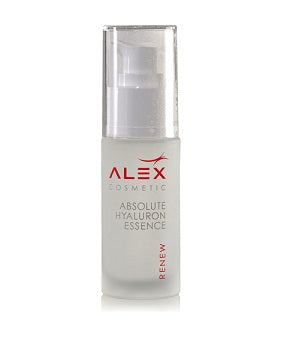 Alex Cosmetic Absolute Hyaluron Essence
A moisturizing serum with Hyaluronic acid, a natural moisture booster, increases moisture in the skin. Leaving it plump and more youthful.
Main Ingredients:
Sodium Hyaluronate
Aloe Barbadensis Leaf Extract
Camellia Sinensis Leaf Extract
Activates skin's regeneration capacity 
Soothing properties, brings irritated skin back in balance with Camellia Sinensis Leaf Extract.
Directions:  Apply the serum mornings and evenings onto face and neck, massage in lightly. Next apply your moisturizing cream
Size 30 ml, 1 ounce.