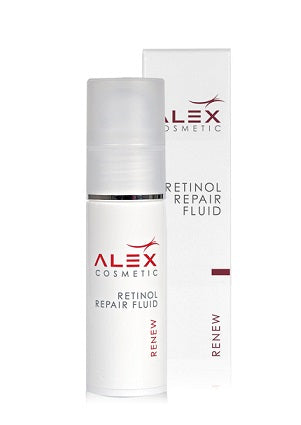 Alex Cosmetic Retinol Repair Fluid
Retinol Repair Fluid, Vitamin A for effective cellular regeneration without skin irritation (LIPOSOME ENCAPSULATED RETINOL COMPLEX). Brings cellular turnover and  stability. Healing properties bring UV damage back into healthy condition. Offers powerful wrinkle reduction and prevention.  Clear skin benefits- eliminates bacteria and refines pores. 
Main Ingredients:
Retinol Liposome encapsulated, power wrinkle reduction

Persian silk tree, improves cellular activity reduces pigmentation

Vitamin E, anti-oxidant
Directions:  After cleansing, apply a small amount of the serum, massage gently onto face. For best results use along with the cream.

Size 30 ml, 1 ounce