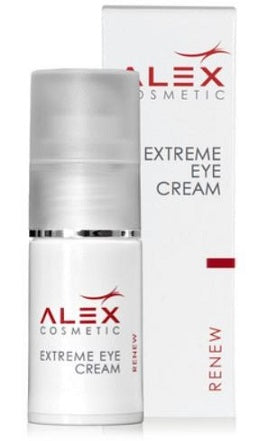 Alex Cosmetic Extreme Eye Cream
Alex - Extreme Anti-Aging eye Cream 15ml
Intensive, regenerating cream for the entire eye area. Provides optimal protection and compatibility. The eye area appears redefined, with more radiance & firmness. Reduces puffiness.  Mature, demanding skin.
Main Ingredients:
Papaya Fruit Extract
Sodium Hyaluronate
Caffeine
Retinyl Palmitate
Shea Butter
Melissa Officinalis Leaf
Witch Hazel
Directions:  Apply a small amount of the eye cream, around the eye area, gently pat, use day and evenings.
Size 15 ml, 0.5 ounce