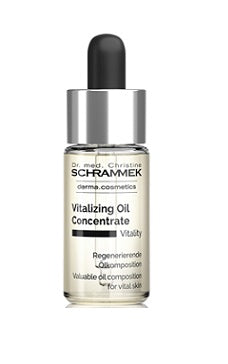 Dr. Schrammek Vitalizing Oil Concentrate
Dr. Schrammek vitalizing oil concentrate provides pure care with a composition of
natural argan
apricot kernel
macadamia nut,
olive oil 
special algae extract.
Selected valuable oils contain high amounts of essential fatty acids, anti-oxidants and vitamins and provide the skin with suppleness, smoothness and vitality. The skin barrier is strengthened and wrinkles caused by dryness are softened and reduced. 
Directions:
Apply a small amount of the Vitalizing oil to cleansed skin, masssage in lightly. Use day and night. 
Size 30 ml, 1 ounce