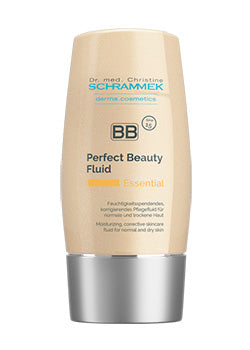 Dr. Schrammek Essential Care Blemish Balm Perfect Beauty Fluid SPF 15 Comes in 3 Shades
Moisturizing, corrective skin care fluid with UV protection (SPF 15) for normal and dry skin
 Light coverage, with UV protection (SPF 15) helps to protect against harmful damage caused by UV rays. A special complexion-soft focus optically smoothes the skin texture and corrects small flaws, such as large pores, pigment disorders or redness. For a natural, flawless looking complexion and a radiant appearance.
Free from mineral oil, PEG containing emulsifiers and parabens. In the morning, apply on face after cleansing.
Comes in 3 shades, beige, Ivory, Peach.
Size 40 ml