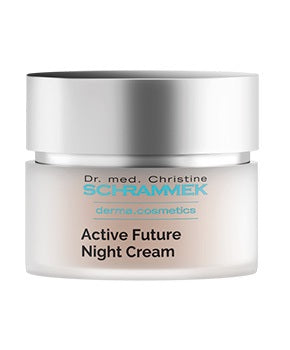 Dr. Schrammek Ageless Future Night Cream
Dr. Schrammek active Future Night Cream innovative formula. It supports the skin's natural functions and replenishes moisture while it works overnight. The results are a radiant, fresh, smooth looking skin in the morning.
Main Ingredients:
Iris Isoflavones
Centella Asiatica improves skin tone, cell regeneration
Argan oil stimulating, protecting
Flower extracts moisturizing
Directions:  After cleansing, toning, apply the night cream with fingertips, massage onto face and neck area. 
Size 50 ml, 1.7 ounce.