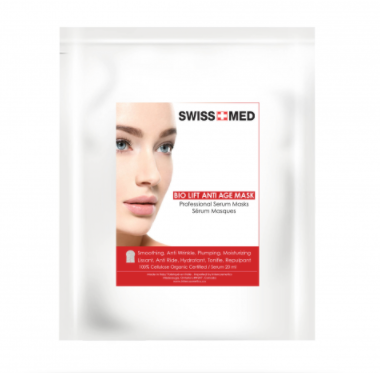 Swiss Med BioLift Mask 10 Sheet Masks
A soothing anti-wrinkle, plumping, moisturizing sheet mask.
Active Ingredients, 2 types of peptides, Acetyl Octapeptide and Plant Peptides to slow the transmission of muscle contractions, reducing the appearance of lines and wrinkles.                                 
The Mask is made up of 100% cellulose, natural plant dervied, quickly absorbs the serum.  Incredibly soft and comfortable.          

 

The mask is soaked with 20 ml concentrate active serums to  ensure deep absorption into the skin.   

 
Directions: Apply onto clean skin. Leave on for 20 minutes, then lift off and massage remaining serum onto skin. These easy to use masks do not need to be rinsed off. 
10 Sheet Masks