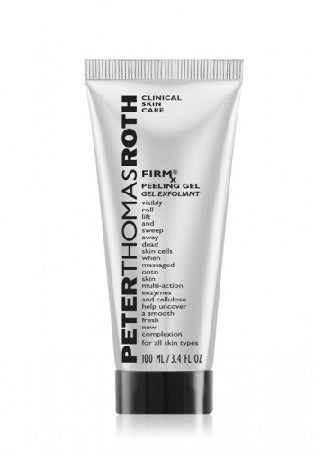 Peter thomas Roth Firmx Peeling Gel
A  unique peeling gel visibly exfoliates by rolling, lifting and sweeping away when massaged onto the skin as a result of physical and enzymatic mechanisms. Multi-action enzymes (Pineapple, Pomegranate and Keratinase) and cellulose effectively exfoliate for a smooth, fresh, new-looking complexion without drying, irritating or causing undue stress to the skin. This customizable treatment for the most sensitive and all skin types helps remove impurities while helping clean clogged pores for a youthful, radiant look.
Pineapple, Pomegranate & Keratinase Enzymes- Help to exfoliate skin's surface.
Cellulose- An irritation-free, gentle exfoliant that helps to smooth the appearance of skin.
Glycerin & Hyaluronic Acid- Humectants that help soothe and hydrate skin. Hyaluronic Acid helps improve hydration by attracting and retaining up to 1,000 times its weight in water from moisture in the air.
Directions: Apply a generous amount of cleansing gel to the face, can be left on for 1 to 5 minutes.  Rinse well with warm water.
Size 100 ml, 3.4 ounce