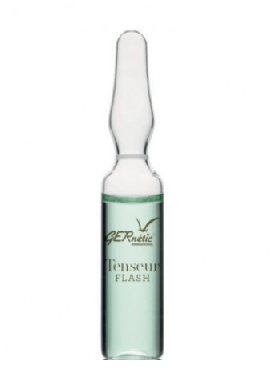 Gernetic Tenseur Flash Concentrate Anti-wrinke 7 x 2 ml
Gernetic Tenseur Flash Anti-ageing concentrate, with an immediate tensor effect and focus targeting the established wrinkles. The depth of the wrinkles is visibly reduced. The skin appears smoother and rejuvenated.
With regenerating and restructuring properties of the epidermis, it improves the barrier function of the skin.
Easy breakable glass vial containing a light green lotion, fresh and delicious scent of citrus and flowers.
Directions:  Apply the serum onto face, using fingertips, massage lightly. Use day and night. 
Size 7 x 2 ml