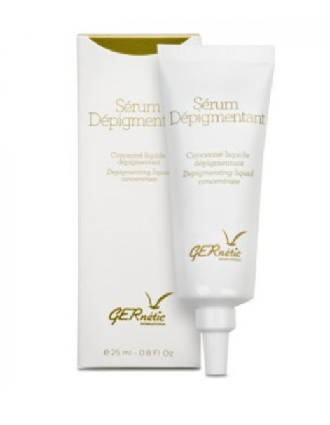 Gernetic Serum Depigmentation Concentrate
Depigmentation serum lightens spots, pigmentation spots concentrated formula. 
Slows down and prevents skin hyperpigmentation reducing the appearance of pigment spots.
With spots fading the complexion becomes even and the skin regains its natural radiance.
Sérum Dépigmentant is used before Crème Eclaircissante.
Suitable for all skin types with hyperpigmentation spots
Directions:  Use after cleansing apply the Depigmentation serum  locally targeting only the hyperpigmentation spots with the pointed end of the tube and apply until the product is completely absorbed.
Size 25 ml