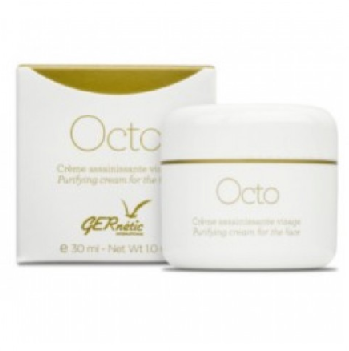 Gernetic Octo, Purfiying Cream
Octo Purifying Cream, removes blackheads, helps to minimize enlarged pores, oily skin, seborrhea. 
The application of Octo can be followed by Crème Mixed and Oily skin cream and and Synchro 2000
Main Ingredients:
Sweet almond 

 Myrrh,

Burdock, 

Mallow,

Thyme extracts with purifying, softening properties for oily skins as well astringent, sebo-regulating and smoothing properties.
Directions: Apply Octo until it's completely absorbed focusing on the T-zone, on dilated pores and blackheads.

Size 30 ml