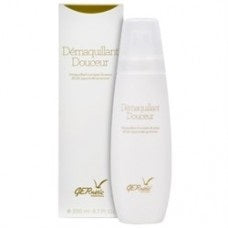 Gernetic Makeup Remover Demaquillant Douceur
Cleansing lotion for face, eyes and lips.
Cleans pores in-depth and tones the skin.
Alcohol free.
Suitable for all skin types, especially for young and sensitive skin
Main Ingredients:

Linden extract: soothing and calming
Chamomile extract: Calming, anti-irritant and emollient.  Help to relieve irritation and redness of the skin
Witch hazel extract: Rich in tannins and flavonoids with its astringent (to tighten skin pores).    Decongesting, soothing and antibacterial properties.  It acts as soothing agent helping to reduce the discomfort of the skin
Cucumber Extract: Refreshing, decongestant, it also has an emollient, soothing and softening effect.
Directions:  Apply to face with a soft cleansing pad, use to remove makeup and refresh skin. 
Size 200 ml, 6.7 ounce