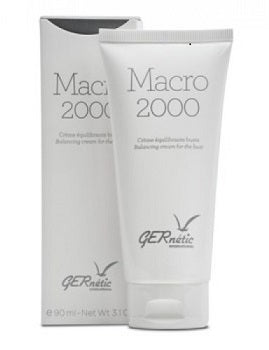 Gernetic Macro 2000 Balancing Cream for Bust
This cream strengthens the bust support fibers, strongly affected by female cycle and especially during pregnancy and with weight changes.
Its active ingredients stimulate metabolism, cell respiration and the  collagen thereby improving elasticity.
For bust action always use Macro 2000 in combination after the Seino lotion and Endo Special.
Suitable for all cases of lack of tone and firmness of the bust for a highly developed or slim bust.
Main Ingredients:
Plant extracts: Ivy, licorice, meadowsweet, comfrey.
Marine extracts
Palmitoyl tetrapeptide-7 and palmitoyl oligopeptide.
A complex of 8 essential amino acids.
Vegetable hazelnut
Directions:
Apply a sufficient quantity all over the bust and nipples, by massaging gently until completely absorbed.
Apply also on the arms, back and neck, by massaging gently until completely absorbed. Use mornings and night after Seino Lotion.
Size 90 ml, 3.1 ounce