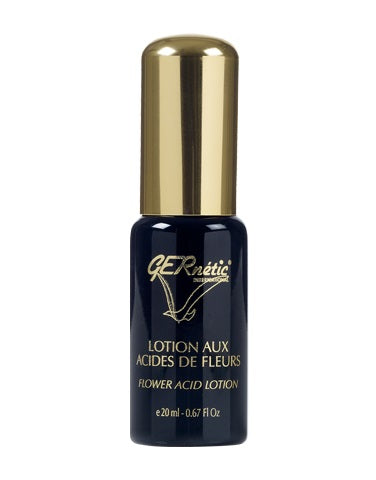 Gernetic Flower Acid revitalizing Serum
Gently exfoliates, removes the dry dead skin cells, promotes cell regeneration, the skin becomes soft and renewed.
Suitable for devitalized skins.

Main Ingredients:
Extracts of frangipani flowers,
freesia,
hibiscus,
rich in active acids, also called Alpha-Hydroxy Acids or AHA malic, lactic, tartaric and anti-oxidant properties for a soft and gradual exfoliating action.
These extracts also provide softening emollient, moisturizing actions
Application:  Apply on the skin and dab lightly.  
Let stand a few minutes, then without rinsing proceed with product application for appropriate skin type. Use this product once a week.
Size: 20 ml