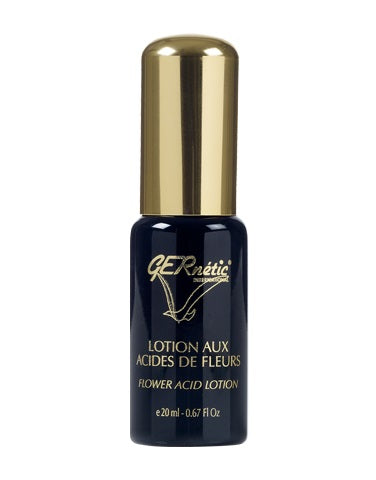 Gernetic Flower Acid Lotion Soft Peeling Serum 20 ml
Gently exfoliates, removes the dry dead skin cells, promotes cell regeneration, the skin becomes soft and renewed.
Suitable for devitalized skins. Do not apply on acne prone skin, or inflamed skin.

Main Ingredients:
Extracts of frangipani flowers,
freesia,
hibiscus,
rich in active acids, also called Alpha-Hydroxy Acids or AHA malic, lactic, tartaric and anti-oxidant properties for a soft and gradual exfoliating action.
These extracts also provide softening emollient, moisturizing actions
Application:  Spray the product onto palm of hands, then dab lightly onto face, avoid the eye area.
Let stand a few minutes, then without rinsing proceed with product application for appropriate skin type. Use this product once a week.
Size: 20 ml