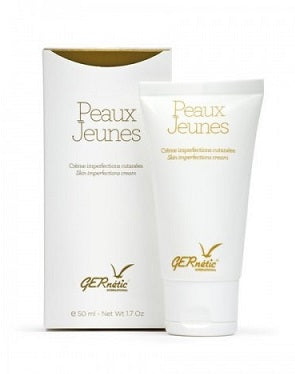 Gernetic Creme Peaux Jeunes, Skin Imperfection Cream, for Acne, oily Skin
Cream to assist with skin imperfections presenting acne, dilates pores, blackheads and excessive seborrhea.                                                                                                              
Reestablishes the pH of the skin and sebaceous secretions.  It calms irritations and skin presenting acne. Suitable for young skins with problems related to oily skin: acne, open pores, excess of sebum.
Main Ingredients:
Extract from myrrh and thyme, antimicrobial effect.

Extract of Burdock root, Mallow and Plantain, recognized as astringent, purifying, emollient, soothing and relieving of skin irritations.

Extracts of watercress, rocket and allantoin, recognized as anti-seborrheic soothing, toning, regulating and purifying of irritated skin.
Directions:  Use this cream daily, morning and evenings until completely absorbed.
Size 50 ml, 1.7 ounce