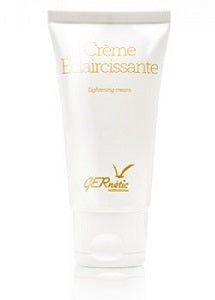 Gernetic Creme Eclaircissante Lightening Creme
Gernetic Creme Eclaircissante a revitalizing cream designed to lighten the complexion in general and act on pigmentation irregularities to restore the skin radiance. It provides a regeneration and antioxidant effect associated with moisturizing and soothing effect. Creme Eclaircissante is used after the Depigmentation Serum.
Suitable for all skin types needing lightening.
Directions.Cleanse your skin apply the creme all over face or areas that need to be lightened. Then apply sunscreen.
Size: 50 ml, 1.7 ounce