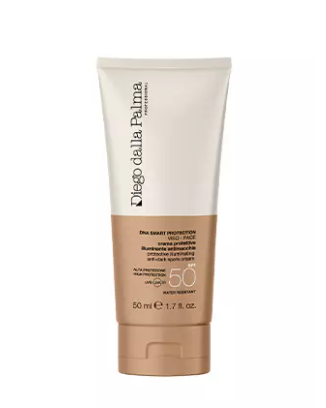 Diego Dalla Palma - Anti-Age, Anti-Spot Suncare SPF 50
A high protective cream SPF50 with UVA, UVB protection with anti-aging benefits.  It helps to protect the skin against the suns rays and reduces redness and irritation. With a combination of Vitamin C and E it reduces dark spots discoloration and wrinkles that can be caused by the sun. 
Main Ingredients: 
Vitamin C 

with anti-wrinkle and anti-spot action, it is ideal for combating the formation of spots and discoloration caused by sun rays.

DNA Smart Protection 

activates cellular protection processes against UV,  blue light, promotes DNA repair processes, protects collagen and elastin fibers from the harmful effects of sun rays.

Anti-pollution factor 

 protects the skin from environmental pollutants and the harmful action of free radicals.

SPF50 Sun Protection Factor
Directions:   Apply sunscreen generously before sun exposure , reapply frequently to maintain protection, especially after sweating, bathing or drying. Apply to face area, can also concentrate on darker spots on the face.  
Size 50 ml, 1.7 ounce