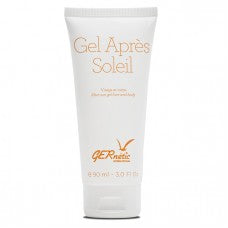 Gernetic Apres Soleil, After Sun Care
After sun exposure, gel texture provides an immediate cooling effect.  It also maintains adequate hydration for the skin.Suitable for all skin types after sun exposure.If a severe sunburn occurs it is recommended to use Synchro cream for its soothing and restorative properties.
Directions: Apply after sunbathing, use generously, apply as necessary.
Size: 90 ml