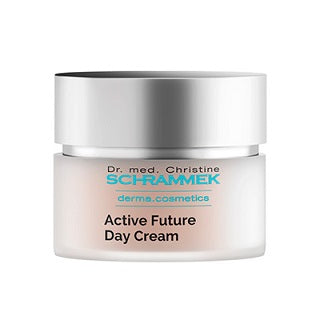 Dr. Med Schrammek Ageless Future Day Cream
Dr. Schrammeck Ageless Future Day cream helps to moisturize, and protect the skin during the day. Skin is nourished and revitalized, use daily and along with the serum.  Ingredients Iris isoflavones and algae prevent from loss of moisture and elasticity. Botanical oils (grape seed, jojoba, avocado) smooth and soften the skin.
Main Ingredients:
Iris isoflavones: protecting collagen and elastin, wrinkle-reducing
Centella asiatica: capillary-firming, cell-regenerating, strengthening
Watermelon extract (Pepha Protect ®): anti-oxidative, DNA-protecting
Algae: moisturizing, vitalizing
Vitamin A: smoothing, firming, cell-regeneratin
Directions: After cleansing apply to the face and neck, massage in lightly. Use the serum along with the day cream.
Size 50 ml, 1.7 ounce.