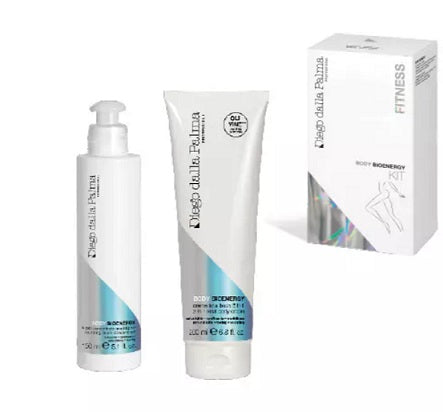 Diego Dalla Palma Body Fitness Kit
Fitness Kit it includes 2 products, to help reduce cellulite as wall as loss of tone, sagging skin and stretch marks.  
Contains 2 products:
The Sculpting Super Concentrate 150 ml size. It contains the ingredient ACTIGYM an Marine based Ingredient which helps to reduce sagging skin, redefines and improves body tone and redefines the silhouette.
3 In One Total Body Cream 200 ml. A Draining and remodeling cream with Vegetal Slim Complex, ideal to use daily to fight cellulite.
Peruvian Ginseng and caffeine to counteract cellulite
Vegetal Extract reduces fat deposits and cellulite 
ACTIGYM firms and tones tissue          
Directions:  Use on clean skin, after showering, apply the Sculpting Super Concentrate first onto areas where needed hips, thighs, next apply the 3 in one Total Body Cream