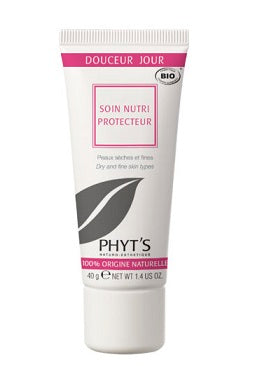 Phyt's Nutri-Protective Care for Dry Skin
Cream  for Dry Skin and thin, fine skin. Restores, nourishes and protects the skin against the elements. 
Main Ingredients:
Ylang Ylang Flower Oil, Anti-stress oil with a beautiful scent.
Hazelnut seed oil, emollient maintains hydration in the skin.
Wheat Germ oil, rich in Vitamins A,B, D anti-oxidant. Heals and moisturizes.
Directions:  After cleansing, toning skin, apply a small amount to the face and neck, massage in lightly.
Size 40 g, 1.4 ounce.