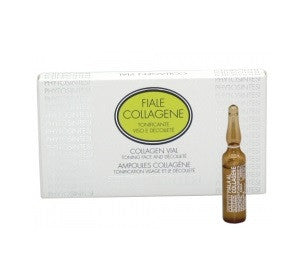 Phyto Sintesi Toning Collagen Vials, 10 vials
The Collagen Vials is a treatment for dry and mature skin. Thanks to its high Collagen concentration, helps visibly smooth wrinkles via moisturization, resulting in toned and improved skin elasticity. After the application of the Collagen Vial, the skin feels firm and lifted.
Directions: Spread the vial's contents over a clean face, neck and décolleté, tapping gently until completely absorbed. Proceed with a facial cream.
Effective Ingredients: Chamomile Flower Extract, Collagen, Elastin, Hops Extract
Size: 10 vials, 5 ml