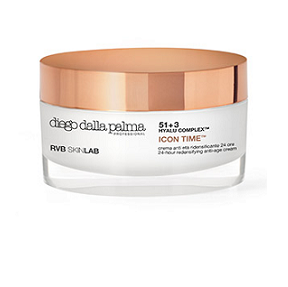 Icon Revitalizing 24 hour cream Diego Dalla Palma
Youth Protection treatment. Anti-age formula which slows down the first signs of ageing and treats the harmful effects caused by stress and an unhealthy lifestyle.
It fights the action of free radicals and inflammation, a micro-inflammatory process in the skin which contributes to aging and causing dryness, wrinkles, dark spots and loss of elasticity.
Enriched with silver micro-dust which strengthens the structure of the skin`s protective barrier.
ACTIVE INGREDIENTS:
 51 + 3  HYALU COMPLEX, which contains 51 active anti-aging ingredients, with peptides
3 Hyaluronic acids which boost moisture in the skin,
microsilver micro dust.
RESULT: skin smooth and hydrated, wrinkles and fine lines less visible
Directions: Use this cream after cleansing your face, apply a small amount to face and neck, masssage lightly.
Size 50 ml 1.7 ounce