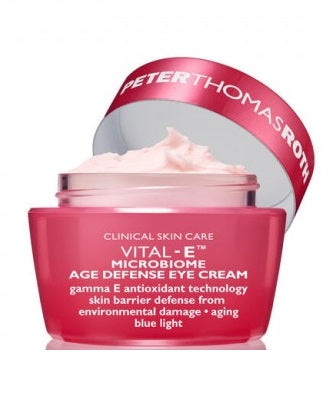 Peter Thomas Roth Vital E Microbiome Age Defense Eye Cream
Visibly helps to combat the aging effects of outdoor pollution and environmental stressors. Gamma E antioxidant technology improves the look of crow's feet, wrinkles, elasticity and under eye circles.
Main Ingredients:
Butterfly Ginger Root Extract, anti-oxidant
Biodefense Complex and Peptides help to balance the skin and reduce fine lines increase elasticity.
Gamma E Antioxidant Technology, improves the look of dullness, elasticity in the skin.
Directions:  Apply the cream to the eye contour area, use twice daily. 
Size 15 ml, 0.5 ounce