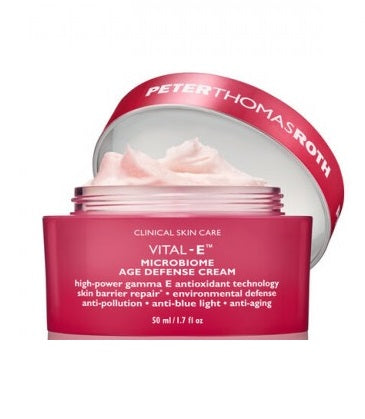 Peter Thomas Roth Vital E Microbiome Age Defense Cream
Visibly helps to combat the aging effects  of outdoor pollution, severe weather and environmental effects. It provides a protective shield that helps to keep the skin healthy hydrated and youthful. Powerful antioxidants to help improve the look of dullness, elasticity, fine lines and wrinkles. 
Main Ingredients:
Butterfly Ginger Root Extract, anti-oxidant
Biodefense Complex and Peptides help to balance the skin and reduce fine lines increase elasticity.
Gamma E Antioxidant Technology, improves the look of dullness, elasticity in the skin.
Size 50 ml, 1.7 ounce