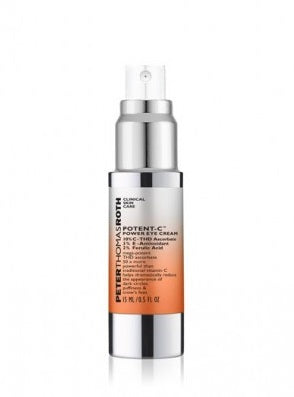 Peter Thomas Roth Potent C Power Eye Cream
A Potent Vitamin C Eye Cream, with powerful antioxidants, Vitamin C and Vitamin E.

Directions: Pat around entire eye area, avoiding lids. Use twice daily with continued use.
Main Ingredients:
 Vitamin E – provides antioxidant benefits. 

 Vitamins C an antioxidant which increases firmness and softens wrinkles.

Hyaluronic Acid – helps improve hydration by booster moisture levels in the skin.
Size 15 ml, 0.5 ounce