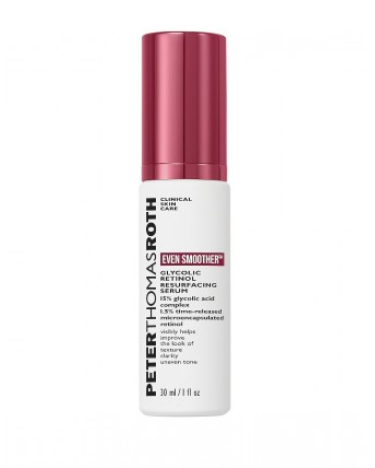 Peter Thomas Roth Even Smoother Glycolic Resurfacing Night Serum
Peter Thomas Roth Even Smoother Glycolic Resurfacing Night Serum
Acheive and maintain a smooth and radiant skin, with this nightly resurfacing serum. A high potency 15% Glycolic Acid complex, 1.5% time released micro-encapsulated retinol visibly helps to improve the look of texture and clarity, uneven skin tone, fine lines and wrinkles. 
Retinol is time released for a gentle effect
Niacinamide helps to reduce discolouration
Hyaluronic and Collagen moisturize and plumps up skin cells for a youthful skin
Directions: Use this serum at night after cleansing and toning.  apply a small amount to the facial contours, avoid the eye area.

Size 30 ml, 1 ounce