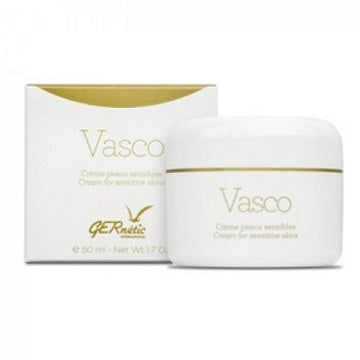 Gernetic Vasco Redness, Sensitive Skin
Vasco is suitable for sensitive skins and skins with visible veins and capillaries due to lack of microcirculation.
Soothing agents help minimize the discomfort of reactive and intolerant skins and reduce redness and irritations.

The result is an acceleration of regeneration leaving a stronger skin.

Following the application of Vasco, apply Synchro or Synchro 2000 for a better result
Main Ingredients:
 Extracts of St John's Herbs (yarrow, St. John's wort, sage) with tonic and astringent properties
Glycoproteins
Essential amino acids 
refined sweet almond oil
Directions:  Apply a small amount of the cream to face area, massage lightly.  Follow with Synchro or Synchro 2000 for best results.
Size 50 ml, 1.7 ounce.