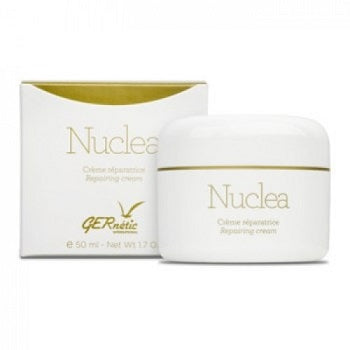 Gernetic Nuclea Regenerating Cream
Formulated to regenerate, repair and restructure skin tissue.
Suitable for all skin types in cases of premature aging, deep wrinkles, dehydration, scars, stretch marks,, eczema, skin depigmentation.
Key Ingredients:
 Avocado, Olive
Calendula flowers.
Essential amino acids, glycoproteins, regeneration factors.
 Natural hydration factors 
Vitamins A and E
Peptides
Directions:  After cleansing, apply the cream, massage onto face and neck. use along with the Synchro cream.
Size 30 ml, 1 ounce