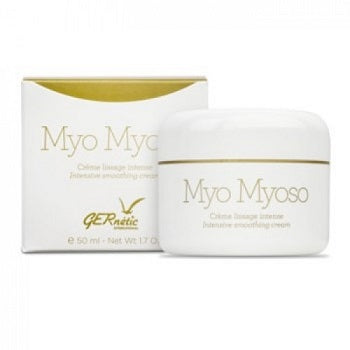 Gernetic Myo Myoso Anti-Wrinkle
An intensive smoothing, anti-wrinkle cream
Stimulates the natural production of collagen and hyaluronic acid, essential nutrients for proper cell function and giving a tensor effect feeling on the skin.
A light cream rapidly absorbed by the skin.
Main Ingredients:
Marine collagen: Regenerative and stimulating properties to improve skin tone and elasticity of skin tissue.
Antioxidant vitamin E and water soluble vitamin F
Essential amino acids
avocado oil
palmitol pentapeptide, anti-aging peptide
Directions: Apply to the entire surface of the face and neck with light strokes emphasizing wrinkles, particularly around the eyes, neck and facial contours.
Size 30 ml