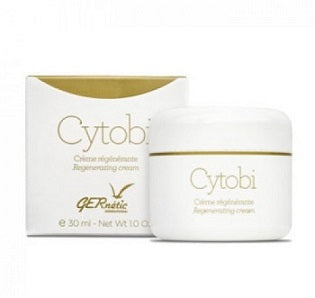 Gernetic Cytobi Regenerative Cream 30 ml, 1 ounce
Gernetic Cytobi Cream Regenerating, suitable for imperfections and signs of aging. Contains powerful ingredients, acts on premature aging, dehydration and skin irritations.  Also on scars, stretch marks and skin imperfections.  A revolutionary formula.
Main Ingredients:
Palmitoyl Oligopeptides, regenerating strengthens the epidermis, anti-age peptide.
Calendula oil, St. John's wort oil, healing, soothing
Essential amino acids, vitamins for healthy nourished skin.
Directions:  After cleansing, apply a small amount of the cream to face, massage lightly until absorbed.
Size 30 ml, 1 ounce