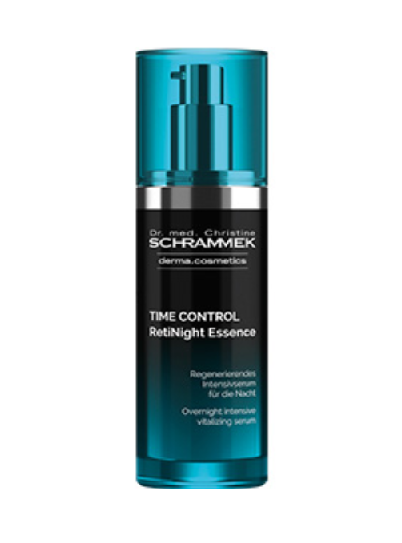 Dr. Schrammek Time Control RetiNight Essence
Dr. Med Schrammek Time Control RetiNight Essence luxurious intensive overnight care for a firm and smooth appearance. Reduces wrinkle depth (by 26%) and wrinkle volume (by 11%). The elasticity of the skin is improved. Additional moisture factors and peptides increase the skin's water content and support its own repair processes. For a smooth, younger looking skin.
Directions:  After cleansing apply a couple of  drops of the serum to the face and neck  massage in lightly. Afterwards apply night cream.

Effective ingredients
Vitamin A Palmitate: smoothing, firming, cell-regenerating
Aquaxyl: moisture-binding and moisturizing, increases moisture in the skin.
Matrixyl™ 3000:  Anti-aging Petptide, stimulates the collagen synthesis, firming, improving the elasticity, proven to decrease the length and depth of wrinkles.
Size 30 ml, 1 ounce