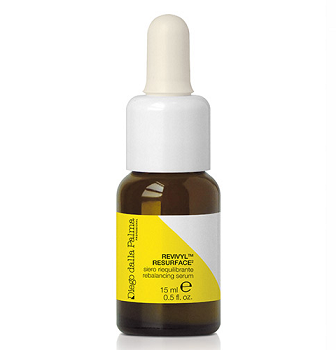 Diego Dalla Palma EGF Renewal Serum
Anti-age concentrate containing EGF
 (Epidermal Growth Factor)
, naturally found in the skin, specifically micro-encapsulated to promote the delivery to the deeper layers of the epidermis. Stimulates the cell renewal and collagen production, reducing the depth of the wrinkles. For a firmer, more supple and more radiant
Active Ingredients
EGF - Epidermal Growth Factor:  Naturally found in human skin. Intensely stimulates the production of new collagen. 
REVIVYLTM : Stimulates stem cell skin renewal and protects the skin.
HYALURONIC ACID : Regulates skin hydration and smoothes the surface of the skin. 
N-ACETYLGLUCOSAMINE : Stimulates the production of new hyaluronic acid, flooding the skin with moisture and boosting hydration.  
Directions: After cleansing apply 4 to 5 drops of the serum massage in lightly onto face.
Size 15 ml