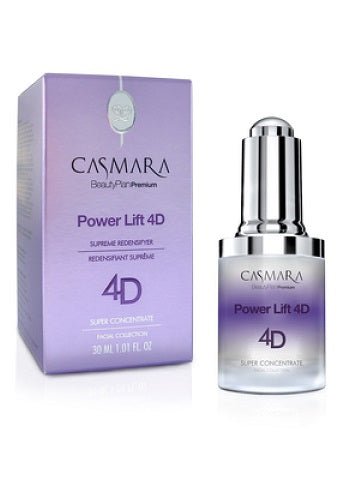 Casmara Power Lift 4D Super Concentrate
Powerful formula to prevent the signs of aging and sagging, has a tightening effect. The skin becomes more firm and increases elasticity in the skin. Ideal for Mature and aging skin. 
Main Ingredients:
Hyaluronic 4D - Ultra-hydrating, redensifies the skin and provides 24 hour hydration.
Essence of Madagascar - tightening and lifting, a natural plant ingredient that helps to reduce wrinkles.
Peptides - anti-aging, reducing fine lines and wrinkles.
Marine Extract - Natural Marine extracts for a firming effect.
Directions:  After cleansing, apply a small amount of the concentrate to the face and neck, use day and night. 
Size: 30 ml, 1 ounce