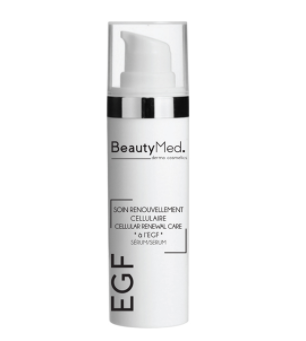 BeautyMed EGF Celluar Renewal Serum, Rejuvenating, Anti-Aging
Beauty Med epidermal growth factor serum, improves the appearance of the skin, increases elasticity, firms the skin, stimulates the surface skin renewal, rejuvenates and helps to correct the signs of aging.
Key ingredients: 10.00% Hyaluronic Acid (tensing effect, long-lasting hydration) 0.10% (EGF) SH-Oligopeptide-1 (skin surface rejuvenation & anti-aging effect)
Directions: Apply the Serum onto targeted areas (the face, neck and décolleté) in light circular motions, twice a day for 3 to 4 weeks. Follow with an appropriate moisturizer. Renew the treatment as needed.
Size 30 ml, 1 ounce