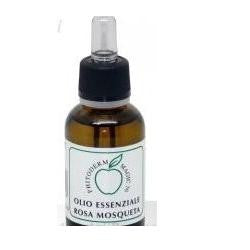 Rosa Mosqueta, Rosehip Oil
Rosehip oil helps to maintain healthy skin because it's rich in:
Vitamin C

Unsaturated fatty acids (Omega 6/3/9)

Pro-Vitamin A (Mostly Beta-Carotene)
To produce Rosehip oil, the seeds are extracted from the wild rose bush, Rosa Moschata, and pressed.
Combining effective ingredients, Rosa Moschata and Glycine Soja, it's primarily used as a facial treatment to help maintain a fresh and youthful-looking complexion.
It is great for dry and/or sun-damaged skin and for those who want a skincare treatment that fights the look of wrinkles. (As an added benefit, the Phyto Sintesi Rosa Mosqueta also reduces the appearance of stretch marks!)
Simply add 4 drops to your face cream and massage in.
Size 30 ml, 1 ounce.