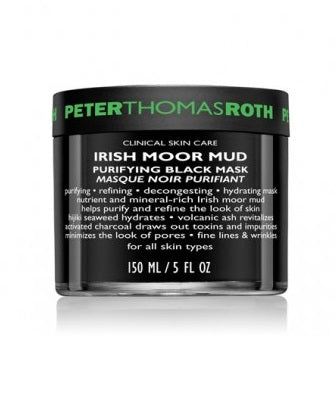 Peter Thomas Roth Irish Moor Mud Mask
Purifying black mask helps purify, decongest, and hydrate. Pure, nutrient-rich, non-drying moor mud helps minimize the look of pores, fine lines, and wrinkles
Irish Moor Mud- The result of the natural decomposition of herbs, flowers and plants over a period of thousands of years, this mud paste has an unusually high concentration of purifying bio-minerals, vitamins, amino acids and fatty acids.
Volcanic Ash & Activated Charcoal- Contain minerals that help draw out dirt, oil and grime, shrinking the appearance of pores.
Hijiki Seaweed- This black sea vegetable grows wildly along the coasts of Japan, Korea and China, and has been used abundantly for centuries. Provides nutrition and hydration, and contains high levels of calcium, iron, and vitamins B1, B2 and C
Directions: Using fingertips, apply evenly on clean skin. Leave on for up to 10 minutes. Remove with a warm, damp washcloth and rinse skin thoroughly of any remaining residue. Use two to three times a week, or as desired. For external use only.
Size: 150 ml, 5 ounce