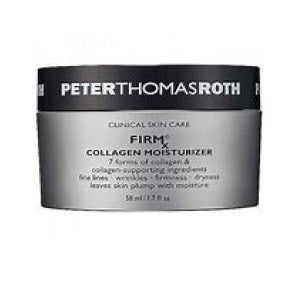 Peter Thomas Roth Firmx Collagen Moisturizer
Firmx Collagen Moisturizer  with seven collagen  and collagen-supporting ingredients to help firm and smooth the look of fine lines and wrinkles.
Marine Collagen, Plant Collagen and Hydrolyzed Collagen helps to improve the look of fine lines, wrinkles and increase firmness while Hydroxyproline, Peptides, Collagen Amino Acids help to increase results.
5% Hyaluronic Acid Complex and Squalane leave the skin feeling hydrated and supple, Hyaluronic is a natural moisturizer helps to boost moisture levels in the skin.
Directions:  After cleansing, apply a the cream to face and neck, use twice daily. 
Size 50 ml, 1.7 ounce