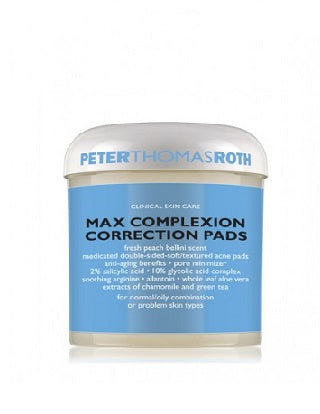 Peter Thomas Roth Complexion Correction Pads 60 pads
Double-sided pads cleanse and exfoliate with Salicylic and Glycolic Acids to clear up active acne and blackheads while eliminating future breakouts.
Cleanse skin, clear up acne and blackheads, penetrate and clear out pores and reduce the appearance of fine lines and wrinkles with these powerful pads. Each pad contains maximum strength 2% Salicylic Acid and potent 10% Glycolic Acid Complex in an advanced botanical formulation to cleanse the skin, clear up active acne, minimize pore size, and eliminate the formation of new blackheads and breakouts.
Double-sided pads deliver gentle cleansing action on one side and superior exfoliation on the textured side. Formulated with a fresh peach bellini scent instead of a traditional antiseptic scent.
Directions:
Cleanse skin thoroughly. Gently wipe affected area to remove remaining traces of oil, dead skin cells, pollutants and makeup residue. Because excessive drying of the skin may occur, start with one use daily and then increase as needed. 
60 Facial Pads