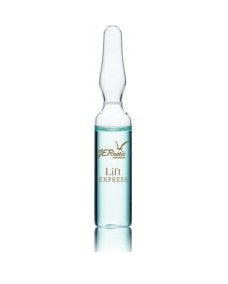 Gernetic Lift Express Anti-Aging Concentrate, 7 x 2 ml
Gernetic Lift Express lotion has an immediate tensor effect on the first wrinkles. Its preventive action acts on expression lines.
It has a powerful myorelaxing effect by working on the contractions of the muscles preventing the formation of the wrinkle by counteracting its deepening.
The vial acts on the collagen synthesis allowing the dermis tissues to regenerate and to preserve its elasticity.
Easy breakable glass vial containing a blue lagoon lotion
Directions:  Apply the serum onto face, using fingertips, massage lightly. Use day and night. 
Size 7 x 2 ml