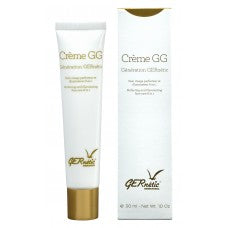 Gernetic Illuminating Day Base
Gernetic illuminating Day Base
Instantly transforms the skin, giving it a brighter, unified and glowing appearance. It contains illuminating agents for immediate visible correction.  It also combines all the elements necessary for proper cell function.
Can be applied as a day base or before the foundation as a makeup base.
Main Ingredients:
A natural anti-fatigue factor.
Cellular nutrition agents.
Protection agents against UV.
Mattifying microspheres, without silicone, for a silky powdery feel
Directions: Cleanse your face and then apply the iIluminating base until absorbed. 
Size 30 ml, 1 ounce