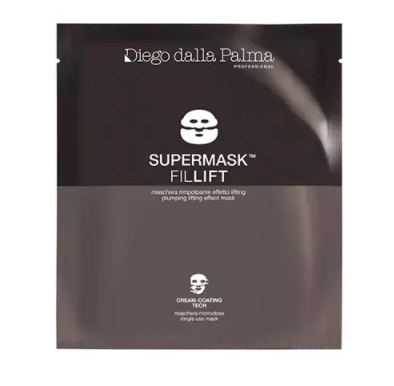 Diego Dalla Palma Single Mask
A thick and compact firming mask, featuring the Cream Coating innovative technology, comes on a flexible support film that wraps perfectly around the skin and boosts the penetration of its plumping active ingredients, enhancing their effects.

The Collalift stimulates the production of the structural components of the skin matrix and strengthens the skin layers, shaping and giving new definition to facial contours. Its ultra-rich formula is enhanced by botox like active ingredients with a smoothing effect on mimic and expression wrinkles.

Your skin will look firmer, thicker and more toned within minutes, delivering lightness to your features as well as smoother and less visible wrinkles, even the deepest ones.
DIRECTIONS: cleanse the face, remove the mask from the package and remove the protective film from the two pieces of the mask. Apply to the face and leave on for 10 minutes. Remove the mask and massage in any residue left on the face.until the product is completely absorbed.
Single use mask