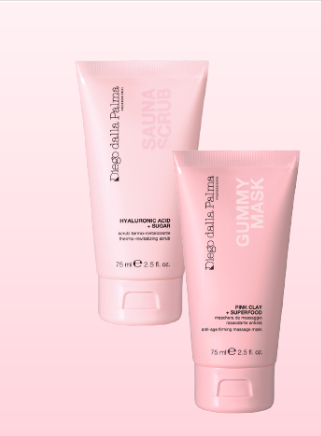 Diego Dalla Palma Scrub and Mask Anti-Age
A Replenishing scrub to give skin a fresh new glow, with encapsulaed hyaluronic acid, with gentle exfoliation. 
Sugar particles melt into the skin, moisturizing combined with delicate scrubbing particles, eliminates dry dead surface cells.
Directions:  Apply a thick layer to skin, avoiding the eye area,  massage in circular motions, massage with wet hands for a more delicate action. Rinse with warm water.
Size 75 ml
Anti-aging mask with pink clay for firming action. With its special adhesive texture based on hyaluronic acid, it allows for a revitalizing massage that makes the skin firmer and more toned.
Fragrance: Gourmand & Sugary (cotton candy, caramel and vanilla)
Directions:  Apply a thick amount of the mask to the face and neck.  Leave on 10 to 20 minutes, then rinse well with warm water.
Size 75 ml