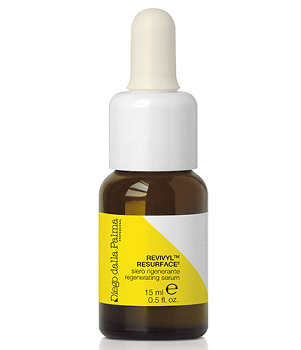 Diego Dalla Palma Resurface Retinol Serum
A pure  micro-encapsulated retinol concentrate with a powerful anti-ageing and anti imperfection action. The special encapsulation technology protects the retinol from the degradation, delivers it through the various layers of the skin and promotes its gradual release over time, for a prolonged and more gentle effect on the skin. Specially designed to combat wrinkles, dark spots, uneven complexion, post-acne scars and dilated pores. Re-textures the skin giving it a more youthful, revitalized appearance.
Main Ingredients:
MICRO-ENCAPSULATED RETINOL: pure and highly stable micro-encapsulated retinol. Re-texturzes the skin., reducing wrinkles and imperfections 
REVIVYLTM : stimulates stem cell skin renewal and protects the skin microbiome. 
HYALURONIC ACID : regulates skin hydration and smoothes out the surface of the skin. 
Directions:  After cleansing, apply 4 to 5 drops of the Serum to the face.
Size:  15 ml, 0.5 ounce