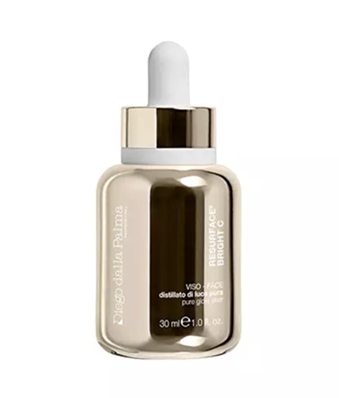 Diego Dalla Palma Resurface Bright C, Pure glow Elixir
Pure glow, anti-dark spot lightening, brightening serum with Pro-White a stabilized Vitamin C ingredient and an anti-spot, anti-wrinkle illuminating treatment.
Reduces wrinkles, uneven complexion and dark spots. For age spots, sun spots, hormonal hyperpigmentation, post acne blemishes and spots on face and hands.
Active ingredients
Stabilized Vitamin C, high anti-oxidants with an anti-wrinkle, anti-spot illuminating action
Pro-White, lightens a powerful brightening anti-spot action.
Detox Light with Hyaluronic acid, hydrating smoothing, lightening.
Directions: Apply  serum to face and neck avoid the eye area, use day and night. For best results use along with the Anti-dart spot Illuminating cream.
Size 30 ml