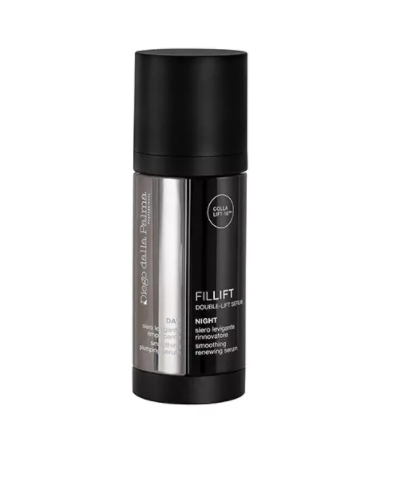 Diego Dalla Palma FiLLift Double Lift Serum, contains 2 Serums
1. Day SMOOTHING PLUMPING SERUM

Lifting and sculpting concentrate that targets the skin's three-dimensional support structure.
Its formula, enriched with COLLALIFT-18® and hyaluronic acid restores facial volume and fills, reduces the look and depth of wrinkles.
Infused with Amplified BTX hexapeptide-1, it is the perfect cosmetic solution for expression lines as well.
2. SMOOTHING RENEWING SERUM

Multi-perfecting anti-ageing exfoliating concentrate:
- Micro-encapsulated exfoliating acids progressively reduce the look of dark spots and discolouration.
 Filling Dermaplex peptide and DNA polynucleotides help reduce wrinkle depth.

Directions:
Apply the smoothing plumping serum every morning and every evening the smoothing renewing serum to cleansed skin.
Tap with your fingertips in sweeping motions from the centre of your face towards the contours and from the chin down to the décolleté.

Size 1 Serum bottle, with 2 contained serums. 30 ml