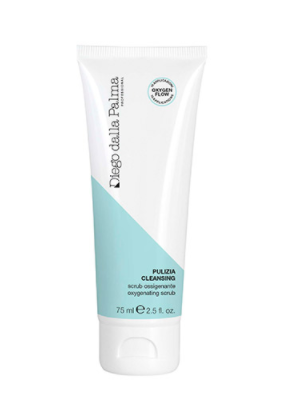 Cell Detoxium Essential Oxygenating Scrub, Diego Dalla Palma
An essential scrub to remove dullness and impurities and enhance skin's natural glow. CELL DETOXIUM and OXYGEN FLOW stimulate cell detoxification and allow  the skin to breathe better. A special formula with micro-exfoliating spheres of different sizes, which remove dead cells. Contains Amazon pataua butter, renowned for its softening and moisturizing properties. For smooth, detoxified and glowing skin. 
ACTIVE INGREDIENTS:
Cell detoxium

oxygen flow

pataua butter

micro-exfoliating spheres

vitamin E

shea butter.
How to use: Apply a generous layer of product, avoiding the area around the eyes. Massage gently in a circular motion, focusing on the "T-zone" of your face and rinse with cool water. Then, apply your usual facial cream. Thanks to its delicate formulation, it can be used when needed, even on a daily basis.
Size 75 ml